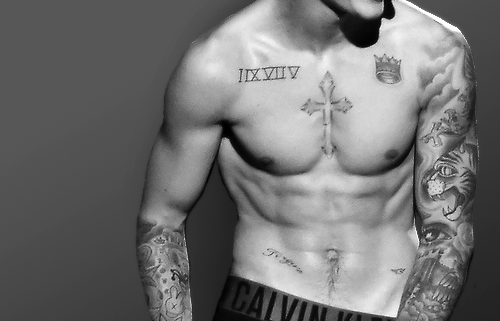 Calvin Klein and Anne Frank are beliebers
Calvin Klein has been known for decades for his controversial advertising campaigns. His latest one, launched last week, has already been the topic of many water cooler conversations, and then some. And what does Calvin Klein have in common with Anne Frank? 
Not so innovative
If you thought your hipster kids were innovative by wearing half of their Björn Borg boxers sticking out of their jeans, th
ink again. Oh, and by the way: if you are over 20 and still do it, you're a loser, if you are over 30 you're desperate.
One of the first underwear brands to print their name clearly on the waistband of the briefs was Calvin Klein (CK) in the early 80s. Subsequently, they also wanted it to show, and stimulated this by photo shoots, showing how it was done. It was quickly adopted by the American gays, making CK one of the first brands to breakthrough via the gay community. This trend was taken up by the straight consumer only years later, for instance with Joe Boxer (mainly by the black community) and only 25 years later with Björn Borg.
Gay marketing
CK is one of the most famous examples where gays were considered as trend setters: already in 1982 he targeted them
with special ads.
The brand shot to greater fame in 1992 due to the crotch grabbing Mark Wahlberg (of Funky Bunch fame), a Herb Ritts campaign that ran in Out magazine – and later on billboards around the world, sometimes with the addition of Kate Moss in her panties. They were also in a cheeky commercialtogether. Kate had been a model for four years then, protagonist of the heroine chic trend, but played a minor role in the campaign. Both rose to great fame and are still A-list now, 23 years later.
Last year, the crotch grab was mimicked by 22-year-old former Disney star and Jonas Brothers band member Nick – while British TV personality Dan Osbourne chipped in too. "Copying is the highest form of flattery".
Fun fact: Jamie "50 shades of grey" Dornan was CK model – without the crotch grab though (picture down below).
How it began
Calvin Klein has been an openly gay (or at least bisexual) fashion designer and his success and approach to marketing made him a – disputed – gay icon of sorts.
His first order was obtained purely, and ironically, by accident when a coat buyer from Bonwit Teller got off on the wrong floor of a hotel and wandered into Klein's studio. She placed an order for USD 50,000, which was a huge amount at that time. Soon, he was on the cover of Vogue. By 1997 sales of Calvin Klein Jeans approached half a billion dollars.
Controversial ads
Klein had long been known for his attention-getting advertisements. He first made a name for himself by designing clean, uncompli
cated sportswear. But he kept his name before the public by creating sometimes shocking and always news making advertising campaigns. After all, if you are promoting underwear you have the right, if not the obligation to show almost naked models…
Advertising was a key to Klein's success. He stoked the media with controversy that kept his name in the news. He was the first to design women's underwear that looked like men's jockey shorts. His television ads for jeans starred 15-year old Brooke Shields, who exclaimed: "Nothing comes between me and my Calvins."
Fun fact 1: 30 years later, the actress claimed that, after two children and three decades, the jeans still fit her.
Fun fact 2: in 2008 the ads were 'copied' by present-day star Kim Kardashian for Radar magazine. In Brooke's case there was talk about exploiting a teen. Kardashian biggest claim to fame was a leaked sex tape. We have come a long way.
A new medium: the "outsert"
Klein again attracted a great deal of attention when he and noted photographer Bruce Weber created a 115-page "outsert" ad campaign incorporating rock and roll, grunge, and waif models as well as the homo-erotic and cynical-chic images of drug use. The outsert was distributed in a few major cities, featuring a fictionalized hard-body rock band and their sexily clad girlfriends, which ran in the October 1991 Vanity Fair. There were some boy-meets-boy and girl-meets-girl shots that were sexually suggestive.
Child porn?
CK ads of the mid-1990s featured underage teenagers (not professional models) in sexually provocative poses that were particularly risqué, and were characterized by many as socially irresponsible. Dubbed "kiddie porn" by the press, the campaign was singled out by Forbes magazine as the worst marketing campaign of 1995.
He even attracted government attention: the FBI and Justice Department investigated the company for possible violations of child pornography laws. The ads were universally denounced, but in the end, the Justice Department ruled that they were not pornography. And, yes, Klein pulled the ads, but not before the accompanying publicity had made the Calvin Klein brand name a part of everyday conversation.
The Biebs
And now… there is Justin Bieber. He was one of the first, if not the first, artist to get over 500 million views for a YouTube video. Idolized by millions, and despised by probably as many (so, of course, endlessly memed). The latter was enhanced by the picture of Bieber in the nude, serenading his grandma, but the coup de grace came when he stated that "Anne Frank would have been a Belieber". Oops.
The model frolicking around with the Biebs is Dutch model Lara Stone. Fanatically tweeting teenage girls started issuing death threats: "hi bitch i hate u. touch justins d*** again and ill kill u im not joking" en "back off or i'll kill you, please and thanks. no pressure 🙂." After all, you don't touch Justin Bieber without the approval of his fans.
Stone's Instagram account has also been flooded by trolls with messages like "Go kill yourself with a cactus" (interesting
choice of weapon there), although many of the comments have now been deleted. Dealing with online death threats – even ones accompanied by emoji and bad spelling. No comments from CK or Stone yet. Is every publicity good publicity?
So – another controversial model is nothing strange for CK. But look, Justin is not the skinny kid star anymore, he has grown up nicely (partly thanks to Photoshop, no doubt) and seems to love his Calvins, even before he signed the contract. No doubt it will create enough rumour around the brand to increase sales substantially.
The dangers of Photoshop
Just like Madonna was "outed" when a before and after picture of her Luis Vuitton photo shoot was leaked, you could almost wait for Bieber to get the same treatment.
His before and after show that his muscles had been enlarged, all of a sudden he had a six-pack – with hair on it – and a considerable bulge 'in his Calvins'. Maybe he was still the boy, and not sexy enough for CK.
BreatheHeavy.com, the site that pointed out the difference in appearance and suggested the use of Photoshop, was quickly threatened with a lawsuit, and had to 1. withdraw the post, 2. say
that it had been a joke. After all, this was damaging to the Bieber brand. The obediently did, with the argument "if you say so, we must believe you".
Reactions on internet
Of course, it did not take long before his proportions and look got a bit out of hand.
There have already been some memes, and many polls as to who does it better, Markie Mark or the Biebs, or if he looks better with or without the hair on his belly.
Again, CK is engulfed in a lot of rumour. These days the social media make it much faster than in the days of child porn, which was not child porn. It will no doubt benefit his business.
Sexual Marketing & Advertising
Just like Klein would deny his campaigns to be child porn (underage teenagers in sexually provocative poses) or condoning drug addiction (decimated teens appeared to be part of an idealized drug culture), he denied his male underwear images to be "gay oriented".
Quotes from Calvin Klein about the sexual marketing and advertising of his brand:
"I'm a sexual person, and that's reflected in my clothes and my advertisements."
"I'm not a drug addict. My wild period wasn't about drugs; it was about sexual freedom."
"I'm not selling sex. I'm selling underwear and jeans, and I'm not trying to do it with pornography."
"My men's underwear print ads are very popular!"
"People read things into my commercials that don't even exist."
"It's fun seeing my label on someone's behind – I like that."
"The only way to advertise is by not focusing on the product."
"The best thing is to look natural, but it takes makeup to look natural."
"There are a lot of gay people in fashion, but it's not as if every gay person is a great creator."
Thus spoke Calvin Klein. He is a Belieber now.
This article is part of my PhD Research, Marketing the Rainbow, which I hope to finalize this year.
https://www.bright.partners/wp-content/uploads/2015/09/groot.png
650
500
alfred@bright.partners
http://www.bright.partners/wp-content/uploads/2015/09/bright-logo.png
alfred@bright.partners
2015-01-12 13:49:41
2017-07-04 20:19:42
Calvin Klein and Anne Frank are beliebers