ARAG introduceerde een grondig vernieuwd zakelijk product.
Ik was verantwoordelijk voor het stroomlijnen van de coördinatie tussen drie interne afdelingen, terwijl ik ook inhoudelijk aan het nieuwe product heb gewerkt – zowel juridisch als op marketing gebied.
Resultaat: de afdelingen werkten productief samen, productlancering werd binnen twee maanden gerealiseerd.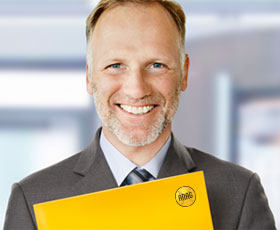 Testimonials
Alfred delivers good quality, is very result oriented and pleasant to work with.
Highly recommendable.
Rob. C.T. Van Rooij, Commercieel Directeur ARAG
I have worked with Alfred on several assignments in Leusden and Rijswijk from 2001 onwards. During all occasions I was impressed with his skills and knowledge in the field of (legal) business, technology and legal risk in general. Alfred makes a solid professional with good interpersonal skills, and is fun to work with.
Victor Meier, Manager Verzekeringstechniek ARAG
I worked with Alfred at ARAG Rechtsbijstand. Alfred is very skilled and managed a strategic innovative project at ARAG. Alfred had an excellent overview on this project, with his senior personality he managed it very well. Alfred is also easygoing and very pleasant to work with.
Eveline Ripke, Marketing & Communicatie ARAG