During a period of 7 years I worked on a great number of project. I was responsible for:
Building a prospect database
Creating a customer contact strategy

Event driven, behavioral triggers, time bound actions
Execution of these via DM, emailings, sms campaigns, virals, events, action platforms, social media.

Acquisition, development, retention campaigns

Increasing customer value
Prolonging customer relationship, reduce churn

Campaign management:

DM and telemarketing campaigns to existing customers for cross and upsell
large email and sms campaigns

Channel management:

drive-to-store with flyers and coupons
drive-to-web with action platforms
lead generation programs

Introduction new products, and migration from old to new. Phasing out old products.
It was my role to manage suppliers, coordinate internal teams: from the delivery of data selections to the analysis of the response. From acquiring information in the huge organization to presenting the results to management. From motivating channels to doing customer satisfaction research.
Claims to fame:
introduction new product line.
successful "swap" of 800,000 customers between the brands KPN and Hi.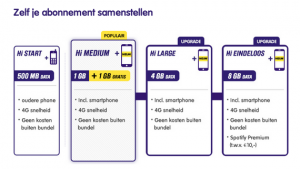 Campagne management
Direct Mail voor "omhanging" klanten tussen KPN en Hi merken. Taken:
o analyses bestand en klantkenmerken
o regelen dataselectie
o briefen en begeleiden bureau
o aansturen drukker
o begeleiden data-en responsverwerking
o bewaken deadlines
o informeren kanalen
o briefen inbound callcenter
o dagelijkse rapportage
o fulfilment proces inrichten
o eindevaluatie met lessons learned
Resultaat: succesvolle mailing naar 800.000 klanten, met lage uitval en laag klachtenpercentage.
Marketing manager
Verantwoordelijk voor opzetten Prospect Database, een zeer breed, meerjarig project waarbij veel in-en externe partijen betrokken waren. Taken:
o in kaart brengen markt
o in kaart brengen marktaandeel (afstemmen met andere KPN merken)
o definiëren mogelijkheden
o opstellen plan
o aansturen dataleveranciers
o vullen database
o wekelijkse rapportage
o regelmatige evaluatie met lessons learned en bijsturing
Resultaat: duidelijk beeld van positie en mogelijkheden, uitgebreid plan om van prospects klanten te maken en marktaandeel te verhogen.
Customer life cycle
Onderzoeken en opzetten customer life cycle. Taken:
o inventarisatie bestaande situatie
o inventarisatie wensen
o inventarisatie mogelijkheden
o maken voorstel en tijdspad
o definiëren contactmomenten en triggers
o inregelen dataselectie
o inzet diverse media, online en offline
o afstemmen ATL en BTL communicaties
o wekelijkse rapportage gehele cyclus
o periodieke evaluatie met lessons learned
Resultaat: compleet uitgewerkte en functionerende life cycle van 2 jaar met 15 contactmomenten. Verhoging klanttevredenheid en CLV. Verlagen churn.
Product life cycle
Onderzoeken en opzetten product life cycle Spotify. Taken:
o inventarisatie productkenmerken
o inventarisatie klantwensen en productgebruik
o inventarisatie mogelijkheden
o maken voorstel: definiëren contactmomenten en triggers
o inregelen dataselectie
o wekelijkse rapportage
o periodieke evaluatie met lessons learned
Resultaat: uitgewerkte life cycle. Verhoging klanttevredenheid, gebruiksgemak en -momenten en CLV.
Testimonials
Met Alfred heb ik vanuit 2organize jarenlang samengewerkt voor KPN. Alfred is een gedreven persoonlijkheid, heeft focus in het bereiken van resultaat en een duidelijke visie op dialoog marketing.
Arjan Grootenboer, Owner, CCO at Oxyma Group (2organize, InBetween, Oxyma Interim and aFrogleap)
I worked with Alfred on campaigns for KPN. Alfred is a highly motivated and nice person to work with. Always human and professional at the same time. He is able to drive consumer and enterprise campaigns on the usual and new business. I would not hesitate to work on campaigning with him again!
Nuray Türksever, Marketing & Sales Manager at TCC Europe
Alfred is a great collegue to work with. He has got a big responsiblity to his job. In a fast and changeble environment which the mobile market is, he stands as a rock. Always trying to deliver what he has promised, always trying to find the best way to do it. But he is also a very reasonable person who accepts that not everything is possible. A great marketing projectmanager to work with in my role as database analist/database marketeer.
Ewald Bokkers, Data Consultant
Alfred is an experienced (direct) marketing professional. He has proved to be capable of translating complex ideas and concepts into concrete results. The enthusiasm in his personality helps him getting things done. Alfred is a pleasant person to work with and he will be a welcome addition to any team!
Lars Crama, Marketing Innovation Enthusiast. Director at Precima.
Alfred is a 'getting things done' kind of person. And with a fine sense for people, politics and perspective. The devil is in the details which Alfred never misses. That's why Alfred makes the most ambitious projects happen.
Simon Siahaya, Freelance online & dialogue marketer
Alfred is een vakkundige marketing strateeg die zijn strepen lang en breed heeft verdiend binnen de KPN wandelgangen. Wat mij het meeste is bijgebleven is niet alleen de kennis en kunde van Alfred, maar de persoon zelf. Hij is een mensenmens, die openstaat voor zijn collega's, hij straalt warmte en toegankelijkheid uit. Daarnaast weet hij slim en snel in te spelen op de veranderingen binnen de markt, met medeneming van de verschillende sociale media. Alfred weet campagnes snel te doorgronden en een klantcontactstrategie is geen vreemde voor hem. Het is een prettige collega om mee te werken.
Dammie van't Zelfde, Content Manager / Social Media at Hi.nl