In 2011 I was co-initiator and organizer of GayDay@Efteling. On June 11 of that year, 1,500 people, dressed in red (analogous to Gay Days Disney) came to the Efteling.
Participants came from the Netherlands, Belgium and Germany. Transport per bus was arranged for, hostesses present. A large raffle with over 100 prizes was organized to fire up ticket sales, made possible by around 30 sponsors, which I got on board.
Guest received a goodie bag at the end of the day, worth € 100 – thanks to the sponsors.
GayDay@Efteling will probably get a follow-up in 2016 as FunGayDay!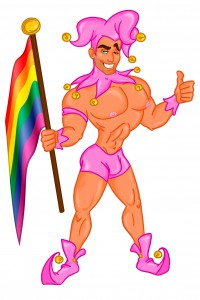 logo and illustration by Ramon Oranje @ Fairydust
Testimonials
I have asked Alfred to help me when I had the idea to organize a Gay Day in the Efteling entertainment park. Alfred has exceeded all possible expectations I had. To be honest he took the lead role doing PR, negotiating with the park the conditions, organizing sponsoring and all other possible matters.
His drive and dedication is incredible and his business ethic as well. Whoever works with him will be lucky to not have to look over his shoulder as the work will be already be completed before you know it.
On top of this, his personality make it a very nice person to work with and have a good time.
Nordine Hamel, initiator GayDay@Efteling
Interesse?
Vertel me gauw meer over uw project!